news

el segundo voyager is christened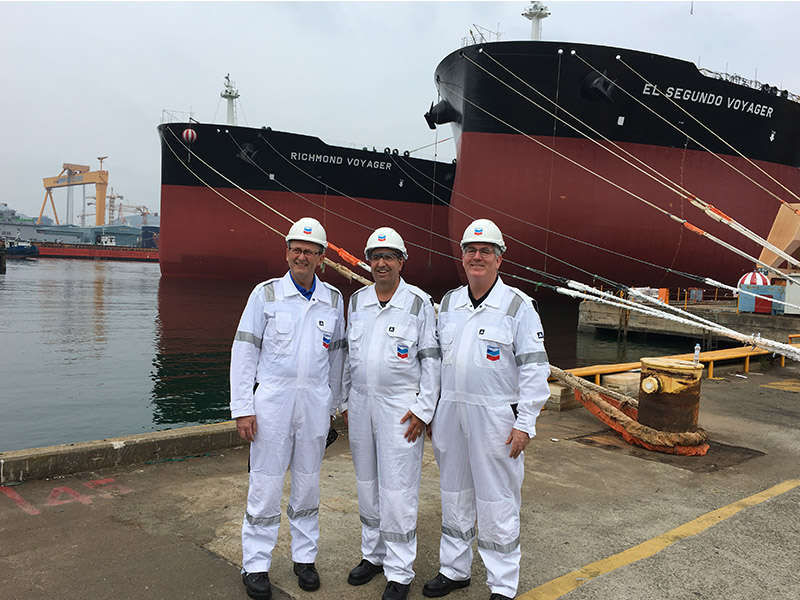 In mid-September 2018, El Segundo Refinery General Manager Henry Kusch and his wife Melinda traveled to Opko, South Korea to participate in the naming ceremony of ship Hull Number 5442, which was named the El Segundo Voyager. This came about when earlier this year, Henry was contacted by Mark Ross, President of Chevron Shipping, who asked if Melinda would be willing to be the sponsor/godmother of the ship because women traditionally christen/name ships. Of course, Henry and Melinda were honored and accepted the invitation.
When asked what was the most memorable part of the event, Henry states, "What made the event special for me is not just that the ship was named after El Segundo, but more importantly it's named after all the people that work as the Chevron El Segundo Refinery Family, and all of our predecessors that have helped make El Segundo the special place it is today."
The El Segundo Voyager is the second of seven VLCC's (Very Large Crude Carriers), the first being the Richmond Voyager that was christened by Darlene Judd (Richmond Refinery General Manager Kory Judd's wife) the week prior to the christening of the El Segundo Voyager. The new Voyager's are truly impressive ships. They are about 1100 feet long (15 feet longer than the Nimitz Class Aircraft Carriers), carry about 2.2 million barrels of crude oil, and are powered by 36,200 KW engines (~50,000 hp). They have the latest in environmental improvements including stack scrubbers to reduce SOx emissions, ballast water treatment to eliminate transport of invasive species into sensitive ecosystems, and are about 20% more efficient than the ships they are replacing. The ships will be part of Chevron's Pacific Area Lightering operations which transports crude oil from the Middle East to the lightering area off Southern California, where the crude is transferred (lightered) to smaller ships for delivery to El Segundo and Richmond.
The El Segundo Voyager began Sea Trials a few weeks after the christening and officially launched in mid-November.