chevron donates funds to elementary robotics program
On January 6, 2017, Chevron awarded a $10,000 STEM education grant to the Redondo Beach Unified School District, which will be used to support the FIRST Lego League Robotics program at all eight elementary schools.

Students, grades 4 and 5, currently participate in the FIRST Lego League program at all eight elementary schools, which represent a total of 14 FIRST Lego League competition teams. Students work with parent and community volunteers and engineers weekly after school, as they prepare for the FIRST Lego League competition, as well as learn real-world examples of how knowledge gained through the program can be utilized in future engineering careers.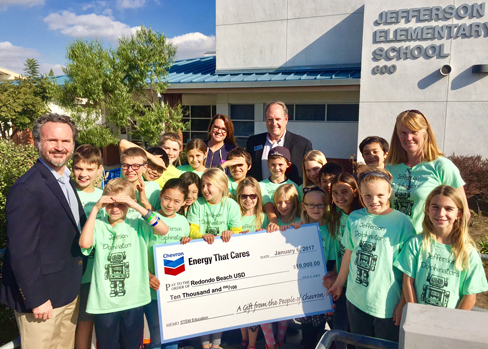 The Robotics program objectives are to continue to expose elementary students to hands-on experiences in science, technology, engineering, mathematics, and programming. This award will support RBUSD's existing eight elementary school FIRST Lego League programs and competitions. Students in the robotics programs utilize problem solving skills, research and investigation, critical thinking skills, and analytical and communication skills, in order to solve real-world problems, such as food safety, recycling, energy, etc. and are challenged to develop a solution. They also must design, build, program a robot using LEGO MINDSTORMS®, and then compete on a table-top playing field. (More information can be obtained at
http://www.firstinspires.org/robotics/fll
)
Principal of Jefferson Elementary, Jeff Winckler, said, "The real winners are the RBUSD robotics students, as they benefit from rich experiences that promote innovation, project-based learning, creativity, and problem-solving. Not to mention, the FIRST Lego League challenge and competition makes learning fun. This hands-on experience exposes students to careers they might otherwise never have considered."
Exposure to the robotics programs engages students in project-based STEM activities that will further their interest and knowledge in STEM-related subjects, such as math, science, and computer science. In addition, students are utilizing college and career readiness skills and applying their knowledge of the Common Core State Standards. Through a collaborative and team-building experience, as well as a highly engaging and overall exciting experience, RBUSD students are exposed to the world of engineering and mechanics.
Chevron's generous award is a symbol of its leadership in STEM education. The award will provide additional resources and equipment to build a prototype that can be adjusted during the design process, leaving the competition robot intact, as well as provide Lego pieces not provided in the kits to allow for out-of-the-box design ideas. In addition, the grant will increase opportunities for each elementary school's robotics program to create new teams.